Make download process from store even more robust
In a 970MB map download there were quite a number of times (5?) when I checked progress to find the download suspended with this notification center error: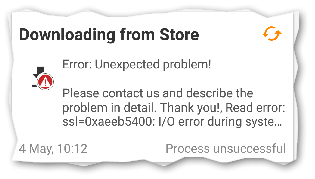 I had to continually check progress over the few hours. If I had left the download to occur overnight I would have found in the morning that it was suspended - waste of time. Fortunately each time I was able to resume the transfer. To credit of Locus it is clear the process is already robust, but could it be improved further - when an "unexpected problem" occurs, still display this error but additionally continually retry with 10s pauses instead of waiting for human intervention to resume.