Improve workflow for adding Shaping point
Maybe there is a faster way to modify an existing route, but here is my current workflow when the router planner needs "encouragement" to go an alternate way:
tap on route segment (but not on existing Via or Shaping point, or POI, or other tap-able map item)
generally the route segment is then displayed, but sometimes there are multiple items in a list to choose from, so again tap/ select route segment item
tap dot-dot-dot menu
tap Trackpoint <N>
tap Via or Shaping or Navigation icon, in this workflow tap green Shaping point icon > focus returns to map
tap the new Shaping point icon
now again the same selection is displayed BUT now also a dot-inside-circle icon, tap this icon
now, finally, I choose a method from the Select Location list for the alternate routing point, generally in this workflow "Select on map" is most useful
Hmmm, what a lot of tapping, for a very common use-case.
Note the tap-and-drag method (with magnifier) is generally not a suitable option over longer distances or where placement accuracy is required or the destination location is not visible.
So....my minor suggestion/ idea is simply for the first panel displaying Via/ Shaping/ Navigation icons to include the dot-inside-circle icon. This would reduce #taps from 8 to 6. Mockup below showing the extra icon. Tapping this icon would add a point type according to the Route Planner settings "Via points as default".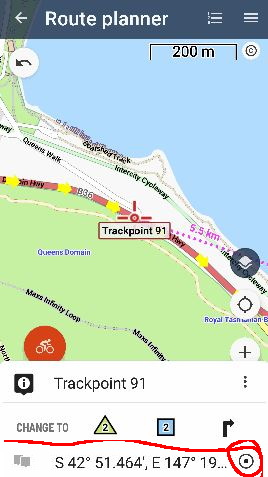 a video is worth a thousand words - https://youtu.be/5McGOzQwNds