This object is in archive!&nbsp
Locus Map Wear: typing waypoint name should be single-line
I'm using Locus Map Wear on a Galaxy Watch 4 (with Wear OS 3.2) and noticed that when I want to add a waypoint and choose Type it the popup that appears doesn't have a "submit" button but a "return" instead.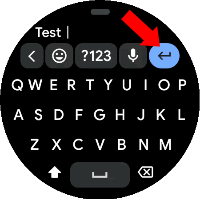 This causes you can't simply type a string and then "send" it, but you have to pull down and then use the submit button there (video attached). Not comfortable at all, isn't it?
I don't think there are cases where multi-line waypoints are needed, isn't it better to have a single line of text (just as the "say it" action does, after all)?