This object is in archive!&nbsp
Recording/pausing incosistencies between app and notification
Hi, during my last hiking with Locus Pro v3.28.1 (on a Samsung Note 4 with Android KitKat) I noticed some incosistencies on the recording/pausing state.
I captured two screenshots which I've merged here for your convenience.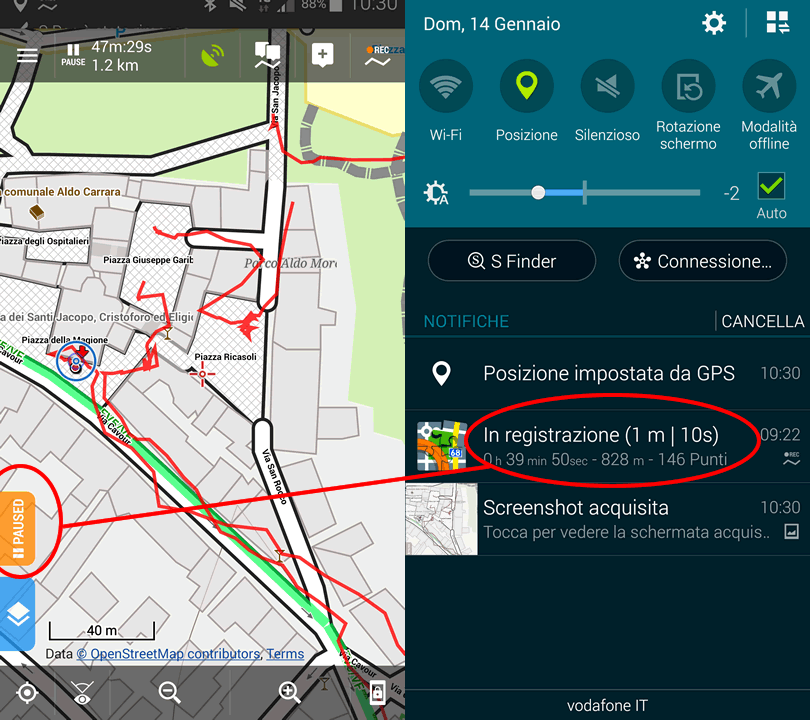 As you can see, the app main view reports Paused while the notification (with the two action buttons of course that I forgot to capture) says "In registrazione" (i.e. Recording in English). You may notice the clock: the screenshots were taken one after another.
I usually start recording and pause/resume from the notification and the widget because it's faster and I discovered this issue because the icons on the widget weren't "correct" with what the notification said... So I opened the app and realized that the notification was wrong.
I didn't notice this behaviour in the past, so it has to be something from the recent versions; also, sometimes I still have the widget unsync issue with these Locus versions, but normally rebooting the phone solves the problem.
Maybe you can add an hidden "report issue" button/menu in the app settings, so when I/we have this issues you can create a dump of the app state and see where the real problem is? It's frustrating not to have the state propagated between the various locations (main app, notification, widget, Android Wear app, etc.). :-)