Reduce battery power during navigation after recalculation
Minimizing battery power consumption is generally very important. Turning the display on is #1 big power consumer. Locus already has impressive display settings to help. When I create a track for navigation I use as few navigation waypoints as possible to keep the display off. With offline BRouter I never use "Compute instructions" because the display is turned on for every minor turn of the track. However if I need to recalculate the track because I have taken a detour or started far from the original track, or auto-recalculation, Locus at present creates a power sucking navigation instruction for every minor turn for the whole route (not just any new part of the track), because my "Compute instructions" preference is ignored, making further navigation pointless. I have two suggestion options when recalculating
simple/auto - check if user has created their own navpoints, and if so disable "Compute instructions", or
complex/manual - if user long taps on the Recalculate button then display the dialog (2nd below) that contains the existing Compute Source/ Compute instructions box etc. like in the main menu.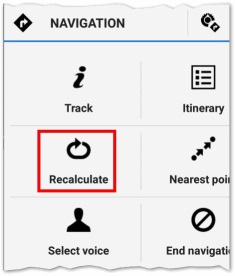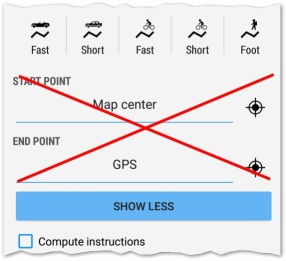 Either option could result in significant battery power saving during navigation after recalculation.