This object is in archive!&nbsp
would it be better that the creation timestamp for a copied track be the current date/time?
I have an existing track with a creation date/time of when I "navigated" the track. I want to create a fresh copy of the track for a new ride, and would expect the copy to have its creation date/time set to the current clock date/time. However the copied track creation timestamp is simply copied exactly from the original track. This doesn't seem intuitive or useful to me. If I compare this with creating a copy of an Android or Windows file, the new file creation timestamp is the current clock date/time. I could export/ edit/ re-import the track but this shouldn't be necessary.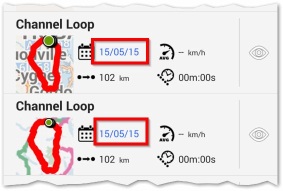 There is a related topic here.