Why does Locus' route planner in web differ from app and does not show several things?
Dear team,
two reasons why users shall make the switch from Locus v3 to v4 are posted repeatedly very prominently: Locus' integrated, own offline capable router instead 3rd party apps like BRouter, and the cloud / web interface which is said to be especially nice for planning thanks to the big screen. Today I gave it a try with a possible MTB tour https://link.locusmap.app/r/i7ud8s and I was very surprised, resulting in 2 questions:

1) Why does the integrated router in the Android app calculate a different route and show different details than the web planner? Duration of 46min with 69m elevation gain versus 54min with 131m elevation gain is quite a difference for the same router with same start & end points in same profile. Moreover, I did not find profile & route information like in Locus App > route planner > estimated travel info, so horizontal speed and elevation gain/loss speed of current profile (that helps to estimate whether I am slower or faster), and and estimate of resting time. I use it often for refinement of expected total tour time.


2) I did experience several limitations (for details see below) compared to e.g. BRouter, which is AFAIK the technical base of Locus' router (e.g. shown in the App), so I did expect the 24€/year product will extend the feature set of BRouter not reduce it. Was this only because I was not logged in with a Gold subscription and thus can't see the features? Or simply because implementation of integration of BRouter with Locus cloud did not yet proceed so far due to limited dev resources? If any of the two is answered "yes", IMHO it would be better to show that, so people can decide "I will subscribe now to see the feature I am missing [now | in near future]" and Locus team gets the funding for dev resources 🙂
Trip in Locus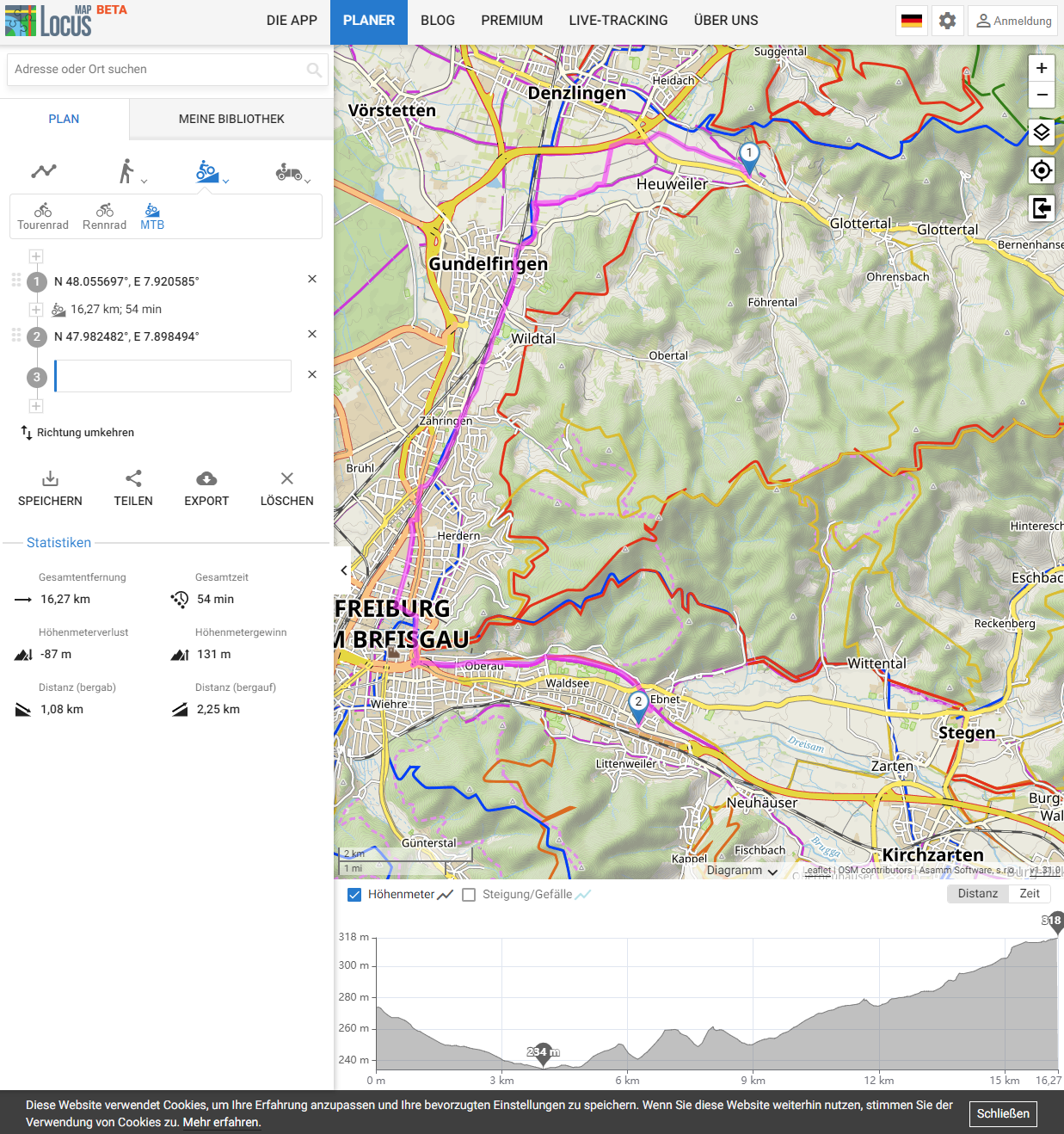 Trip in Valhalla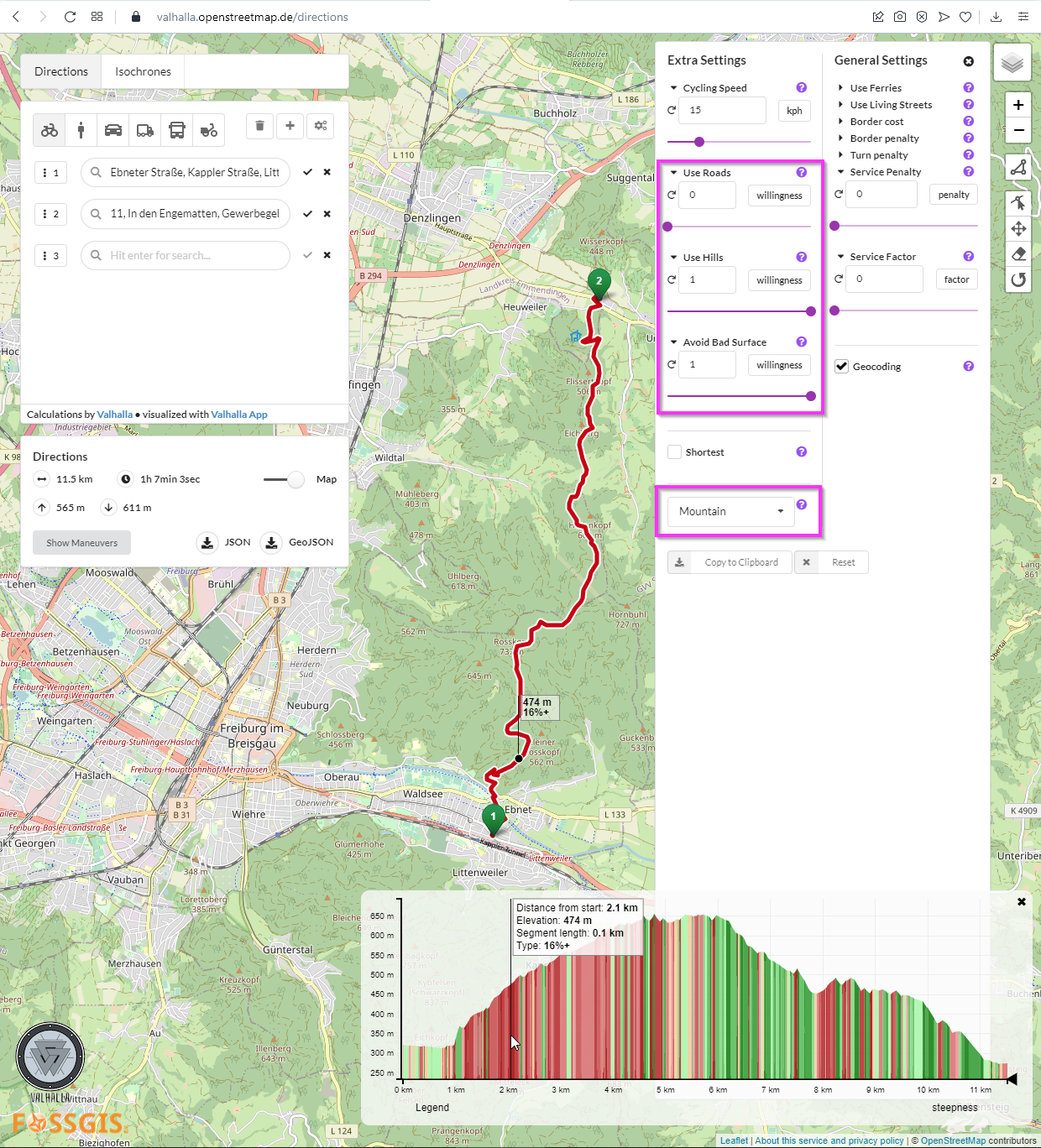 Trip in BRouter Web Client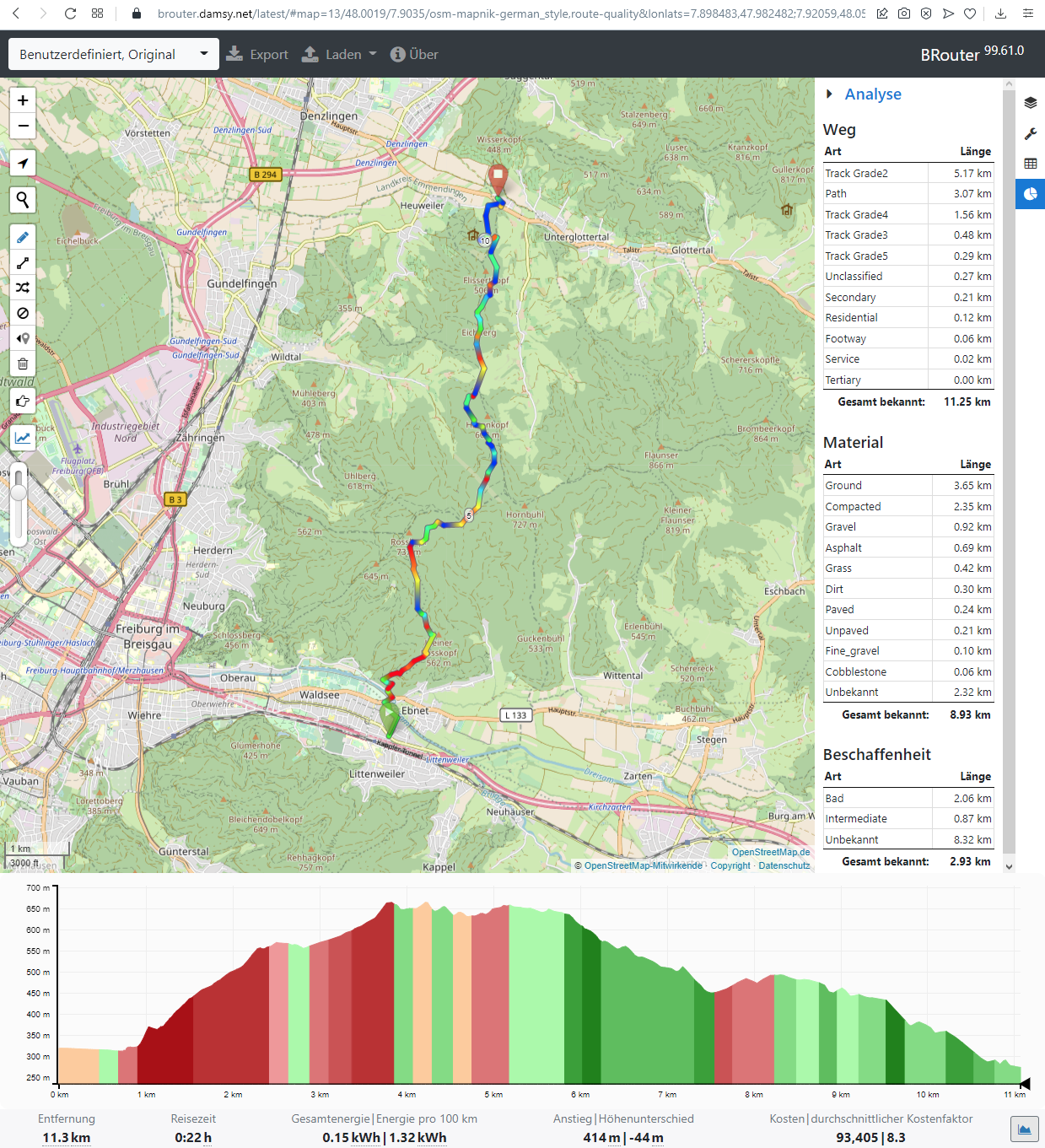 Examples of features well-known from BRouter https://brouter.damsy.net/latest/#map=13/48.0019/7.9034/osm-mapnik-german_style,route-quality&lonlats=7.898483,47.982482;7.92059,48.055727 or Valhalla https://valhalla.openstreetmap.de/directions?profile=bicycle&wps=7.8985948,47.982322,7.9203381892048235,48.05553875 I did miss because they are IMHO important for a bike tour:

I did not find a display of

road type distribution

, i.e. cycle way, track, 2ndary road etc., as well as

surface distribution

, i.e. percentage of asphalt, gravel,... (in BRouter screenshot at right side). See also https://help.locusmap.eu/topic/24757-add-surface-type-share-to-a-web-planner-and-application-plannerviewer
I did not find a

possibility to adapt road surface & elevation gain preferences, horizontal/uphill/downhill speed and other settings

to adapt to e.g. an electric versus muscle MTB. Hence, I was unable to make the duration estimation more reliable and to get a route adapted to personal preference. To understand what I mean, play with the detailed settings in BRouter (in screenshot at right side hidden behind road & surface type) or valhalla (highlighted in screenshot) and observe it has a strong influence on the resulting route, e.g. whether it is around or across the mountain.
I have the impression MTB profile in Locus has "forgotten" it's a profile for a

mountain

bike because it leads 5km longer

around the mountain

through the city along big secondary roads and heavily used railroad tracks. To really get a tour

using the mountain

and through the nature, I need to manually add intermediate points to force the router to consider the forest. In contrast, original BRouter with profile

* mtb

does route across the mountain as I do expect from MTB profile. In Locus, none of the 3 profiles did route across the mountain.


Besides that, I missed POI-related features well-known from e.g. OsmAnd. For example, I did not find a possibility to filter LoPoints, e.g. show restaurants that are open at the moment or at a given time (e.g. tomorrow when I want to do the tour). I also did not find a possibility to make some LoPoints types more prominent than others, e.g. to show restaurants already in lower zoom levels because I want to see where I might spend a rest/break. BTW, is it because Locus team is partly vegan that such a common POI type like a butchery https://www.openstreetmap.org/node/324660972 does neither appear as LoPoint nor in the map rendering? 😉
Thank you for clarifying 🙂
Georg