GraphHopper - has anyone customized an existing vehicle?
I am aware that GraphHopper is not developed by Locus, but am asking other Locus users (not Locus devs) whether anyone has customized an "existing vehicle" as listed as a feature - scroll to the end of the GraphHopper community webpage? I ask this because I really want to switch from BRouter to GraphHopper (this topic is an example why) for creating cycling tracks but I am finding GH can make quite bad decisions on which road/ track to take. I am able to tweak the BRouter "fast bike" profile easily but can't find out how to tweak an equivalent GraphHopper "vehicle" - is it possible?
In this GH example below the online routing web page makes a poor decision to route via a walking track (between my red arrows) even though I have selected a bike, and the close-by orange Huon Road is quiet and very bike-friendly: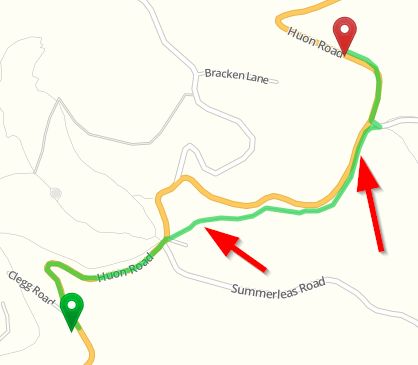 I'll try asking the GH devs too & report back here if I find anything out.