This object is in archive!&nbsp
V4 GUI improvement by offering more freedom of panel placement
In a nutshell: Please allow spacial customization of panel to make functions easier to reach by thumb during one handed usage. Could become redundand if "alternate menu panel" can be opened not only by side panel button (see https://help.locusmap.eu/topic/28030-alternate-menu-panel-questions-concerning-usage-and-settings).
Currently, all side panel content is at very bottom and very right. I am a tall man with big hands. For me, reaching the bottom right of the screen with the thumb is a very uncomfortable & cumbersome thumb movement during one handed use of the mobile – especially when I need a really firm grip (e.g. while hiking or on a boat) and thus my thumb's base is at the device's edge at ⅓ to ½ of the device's length, so far away from the bottom right corner where bottom+side panel are "magnetically attracted" to. You can see it in the video. Thus, v4 is not an improvement in ergonomics/usability for me compared to side panel of v3 which was attracted to top right – so most of its content was easy to reach, while now, most panel conent is hard to reach.
To really improve ergonomics for all hand sizes plus for 1 as well as 2 handed operation, I would like to
have a empty bottom menu ending below the big "center view" button, so I can see the map instead a useless (because empty) menu band
freely decide at which point in device's length the side panel shall be centered (or, if it's easier to join with current implementaion, to which y coordinate it is attracted to / it starts from). So instead of always bottom in v4 and always top in v3, I could choose ½ or ⅔ of device's length, measured from bottom.
freely decide how many columns the side panel has instead of a fixed width of 1. This reduces the heigth (top & bottom of a tin long bar are hard to reach) while increasing the width (moving to the middle which is easy to reach)

An alternative would be a positions manager for freely distributing buttons across the screen, as mentioned in https://help.locusmap.eu/topic/make-the-bottom-panel-more-customisable#comment-14206 – which would IMHO be pretty simple to implement: Just make all function buttons selectable in the dashbaord editor 😎
A mockup of the current and my personal future layout that brings all buttons within easy reach of my thumb: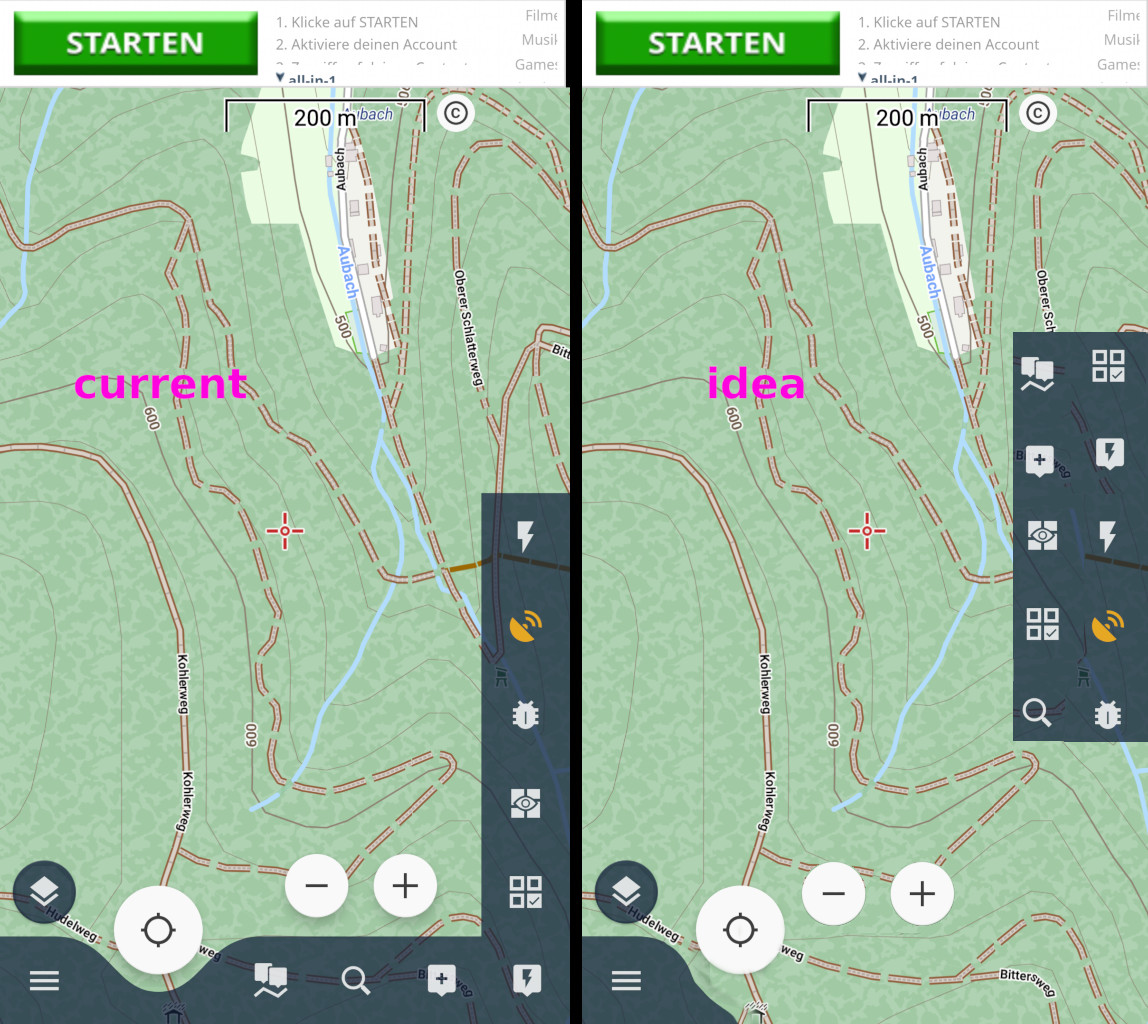 Please note the zoom buttons + and - are by intention not at the very bottom and by intention a little more to the left, because that position is much easier to reach by thumb. You can see that in the video.
Yes, I am aware that it looks not as elegant as current layout, but it is much more ergonomic. Same as with shoes – elegant high heels are usually not chosen for activity/walking but for sitting and not using them 😉
Centering & zoom buttons color in the "Light mode" (for best visiblity)
White, current solution

Dark, semi-transparent like other panels