This object is in archive!&nbsp
Confusing arrows and voice commands during route navigation?
This week I was using Locus Pro v3.32.2 to navigate a route created with the wonderful Route Planner (thank you for that, trail snapping is GREAT!!!) with voice commands. The map is the vector OpenAndroMap.
Sometimes, however, the arrows and the voices are confusing; consider this case for example: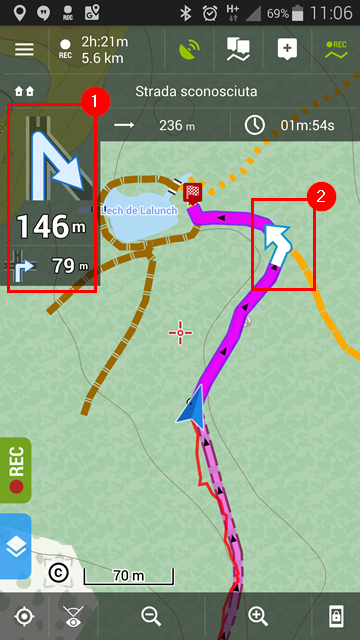 Can you explain why the arrow on the top left part [1] tells me to turn RIGHT while the arrow the map [2] correctly says to turn LEFT?
The voice command was "secca a destra" in Italian, which I think will be translated to "hard right" in English, but anyway... that's not RIGHT, it should be LEFT... Or am I missing something?
This does not happen all the times, of course, but especially with mountain trails it's safer to watch the map instead of trusting the suggestions or the arrows.